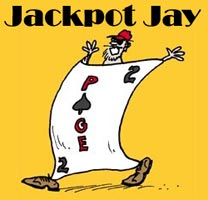 .
Jackpot Jay Lovinger has
another column
on
ESPN Page 2
. Great column.
From Dave "The Devilfish" Ulliott, who should really be The New Face of Poker since he's got the entire package (genius ability, a great nickname and the perfect look -- kind of an emaciated Eric Clapton thing, with just of a touch of John Lennon, circa the late '70s): "Don't raise in early position, unless you can stand a re-raise. Because if you raise, and then go out when you are re-raised, people will remember that -- or, at least, it'll be in the back of their minds -- and they'll take advantage of you by picking on you constantly."
I will remember that on the tables at
Party Poker
.