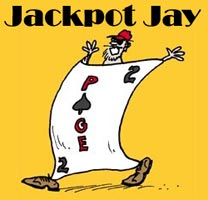 &nbsp
Jay ponders the great question...
Is Poker A Sport
?
This column strays from his usual gripes of actually playing poker and focuses on the phenomenon that is poker. I don't think poker is a sport, rather entertainment. At least poker on television.
People watch sports for one reason: to see who won, to see who can exhibit the most grace under the most intense pressure, and then to celebrate the winners, often by cashing a bet. (Yes, football fans, I'm talking 'bout you. Be honest now -- would you rather see a week's worth of incredible physical feats, or collect on one meaningful wager from your local bookie?) And the reality is that big-time poker provides just about the most intense pressure the fertile mind of man can create -- not to mention an endless stream of meaningful wagers.
I don't disagree with this statement at all, but I still don't think this qualifies poker as sport. Put it this way, I watched Survivor All-Stars (and all the other Survivors too...I know, I'm a dork) to see who won. There were elements of sport involved in the show through challenges, etc., but I would not consider Survivor All-Stars a sport either. It was entertainment. That is what the WPT, WSOP, and the Celebrity Poker Letdown (as
Pauly
calls it) simply is.
Please let me know if you disagree.